Be in our study group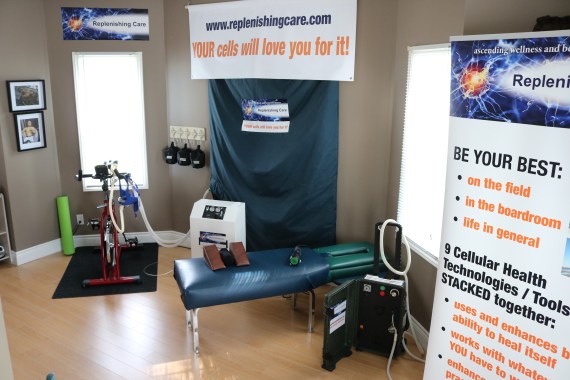 RCC is seeking 30 to 50 participants for a Replenishing Care Pilot Study that will lay the foundation for a network of Replenishing Care Personal Best Performance and Personal Best Fitness Centers serving those wanting to achieve their personal best level of fitness in order to excel in their chosen fields and enjoy the lives they have worked hard to create.
The study will run for eight (8) weeks. Suggested locations are St. John's, Newfoundland and Labrador or Toronto, Ontario Canada.
Participants will experience the full Replenishing Care Program consisting of the following:
PART ONE: IN (Replenishing Care) CENTER Sessions
12 high performance Training and Recovery sessions over a 6 week period delivered using RC's integrated Training and Recovery Protocols:
Cardiovascular efficiency, speed and endurance

Spin bike or treadmill or elliptical with altitude contrast oxygen

Resistance, strength and power

Free weights, bands, isometrics and dynamic bodyweight movement

Balance, coordination and flexibility

Pelvic correction, scar tissue therapy, stretching, yoga 101

Mental focus and clarity

PEMF, emotional release techniques

Injury prevention and injury/surgical recovery

PEMF, Scar Tissue Therapy
PART TWO: Replenishing Care Home Tool Kit
A seven (7) Technology Home Tool Kit to keep your momentum going and extend the benefits of the 12 In-Center appointments between appointments and post-program. These technologies are powerful – yet simple and easy to use. STACKING them together both amplifies the individual benefits of each technology and minimizes your time needed for deployment. You will also receive the World's leading wearable monitoring device – which is easily-customizable to your unique goals and needs in order to track your progress and fitness improvement.
PART THREE: Maintenance Program
3 additional Replenishing Care In-Center sessions over the next 6 week period – to take your fitness gains to an even higher level.
To join our Group Contact us.